How to Release a 5th Wheel Hitch
with a 5th Wheel Release Handle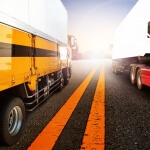 The fifth wheel coupling provides the link between a semi-trailer and the towing truck, tractor unit, leading trailer or dolly. Some recreational vehicles use a fifth wheel configuration, requiring the coupling to be installed in the bed of a pickup truck as a towing vehicle.
Using a strong 5th wheel pull hook is recommended when separating a tractor from the trailer. Soft-metal hooks (such as those made from aluminum) are unsafe as they are too susceptible to bending.
Reaching under the trailer to release the fifth wheel can cause neck, shoulder and back injury, as well as, damaging your clothes with grease, oil, and road grime. Our 5th Wheel Hitch Release Hook can help eliminate these problems.